Solid Mission 9 first ride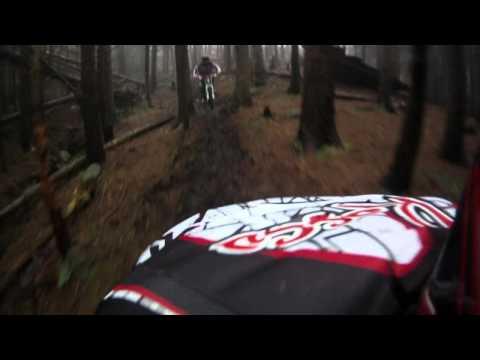 Just in time, as I get my new Solid Mission 9 bike set up I get the flu… and snow falls for a couple of weeks. I've been dying to get out on this bike for the past few weeks and I finally got my chance today. I headed out with Rosco to one of our training spots to see how it would go. The bike is a custom Solid Mission 9 supplied by James O'Carrol of OC tuning. It's a pretty sweet setup with Fox suspension all round. I got 2011 internals in the front forks, giving better reliability (hopefully) and easier access to low/high speed compression adjustment at the top of the stanchions.
The geometry of the bike has been tweaked too to give a shorter 435mm chainstay length, BB height of around 355mm (adjustable) and 225mm of rear travel. The bike is tiny and is so easy to flick about on the trail. To compare, Rosco's KTM chainstay length is 457mm, right Rosco?
On the trail the bike feels pretty well planted. It's still only a single pivot design, but has a linkage system to give a really nice progressive spring curve. It's totally supple at the start, but you never feel like you are going to bottom the thing out. I also have confirmation from bike wrecker Ewan Doherty that these frames are super strong. He says it's the first frame he has never cracked… yet.
It's been around 4 weeks since I was last on my DH bike so today was more of a day for getting used to things again and getting some speed up. I felt pretty natural on the bike straight away and think i'm 80% there with the setup. The biggest thing that was holding me back was my fitness and thats a good thing – when you can jump on a bike and have that much confidence in it so quickly. Hopefully by the start of the season everything will be ready to rock.
Andy Yoong